Sunglasses Music On SoundCloud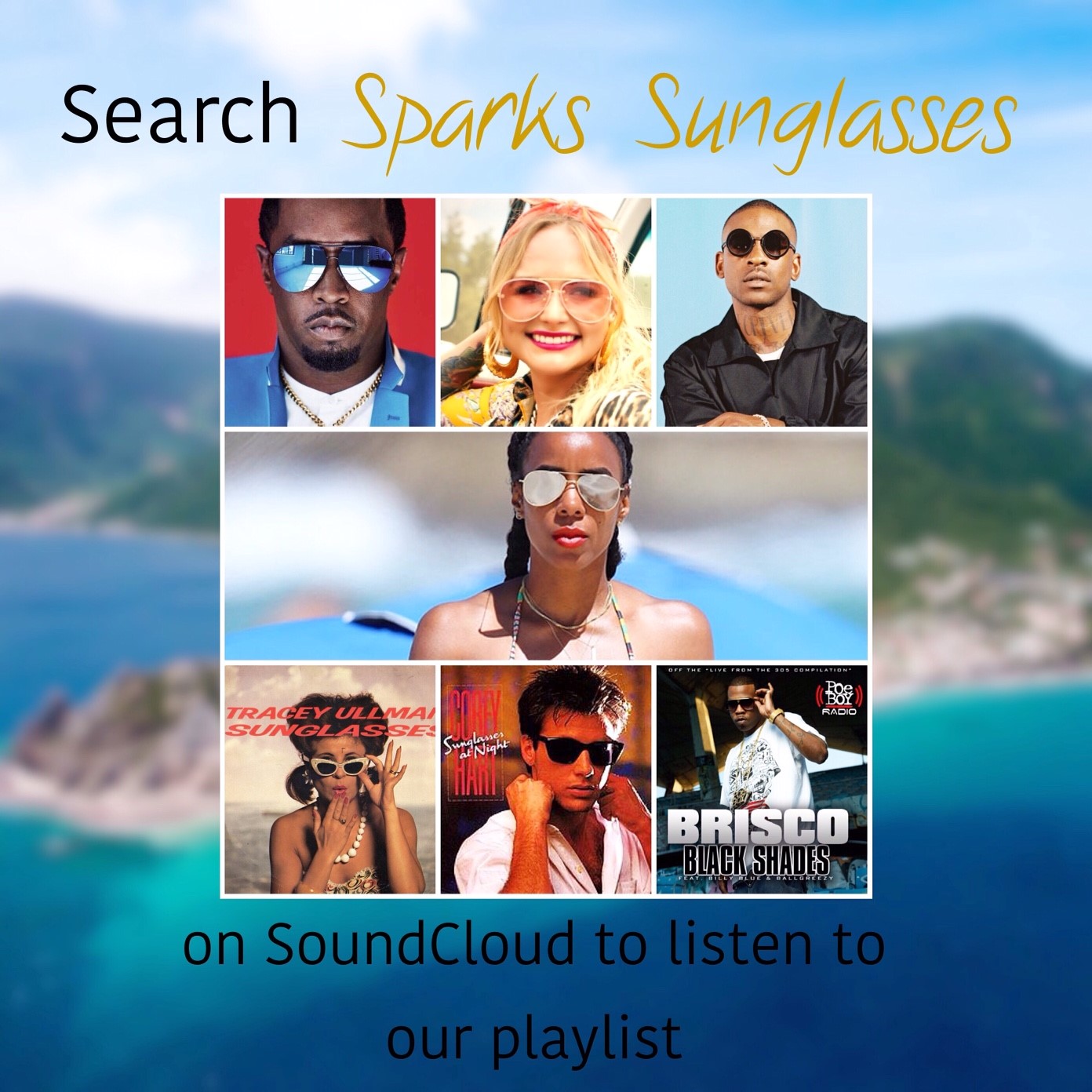 Did you know Sunglasses Music existed? Well now you do!
For the first year anniversary of Sparks Sunglasses, I decided to put together a sunglasses music playlist so we could party together not matter where we were in the world, and celebrate how far Sparks had come. It's been almost 2 months since the sparks anniversary and the playlist has 11 Sunglasses Music tracks. If you didnt know that Sunglasses Music was a thing, I'm proudly making you aware of the fact that it's actually a full blown genre. The playlist is housed on Soundcloud and regardless of the ocassion, I want us to have a party with sunglasses music.
I love music! I have been called "The number one station for hip-hop and R&B" since I was in high school. That title is literally in my year book. My dad is a DJ, my mum is an African Dancer and I have a massive catalogue of music on my phone, iPod, laptop, hard drive and in my brain. When I tell you that it is crazy how much lyrics our brains can store. Anyway I'm also quite an eclectic music lover and that is reflected in the Sparks Sunglasses SoundCloud playlist. A new song was added recently, so its got songs from Diddy, Brisco, Kelly Rowland, Skepta, Corey Hart, Miranda Lambert and some really old skool jams. You may not have heard some of the old skool artists, but that doesn't mean their sunglasses music isn't cool.
Music is the universal language of love, especially when the human voice doesnt always articulate love very well. Music spreads love and joy in the most amazing way. The world needs massive doses of that and I want to encourage more people to wear sunglasses in order to love and protect their eyes. SO... I hope you check out the playlist and have it playing in the background as you go about your day. Let me know which song is your favourite in the comments and be blessed. Oh and why not get yourself some Sparks Sunglasses from the NEW Summer Vybz Collection, and send me a video clip of yourself in your Sparks, listening to the Sparks Music. Sparks, Sparks, Sparks and more Sparks.
Click the link below and Party With Me! Oh and if you have a SoundCloud account, make sure you follow us so you know when new music is added. 
https://soundcloud.com/user-776640890/sets/sparkssunglasses" target="_blank">Sparks Sunglasses SoundCloud
Sparks Sunglasses
Trendy - Stylish - Fashion
www.sparkssunglasses.co.uk
"Sunglasses to love and protect your eyes"
Follow us on Instagram @SparksSunglasses
#SparksSunglasses #SunglassesMusic #SunglassesSong #PartyWithMe #SoundCloud #GoodMusic KellyRowland #Diddy #Brisco #Skepta #TraceyUllman #CoreyHart #MirandaLambert #Soundtrack #Unity #SummerPlaylist