The Sparks Family In The Spring 2020 Collection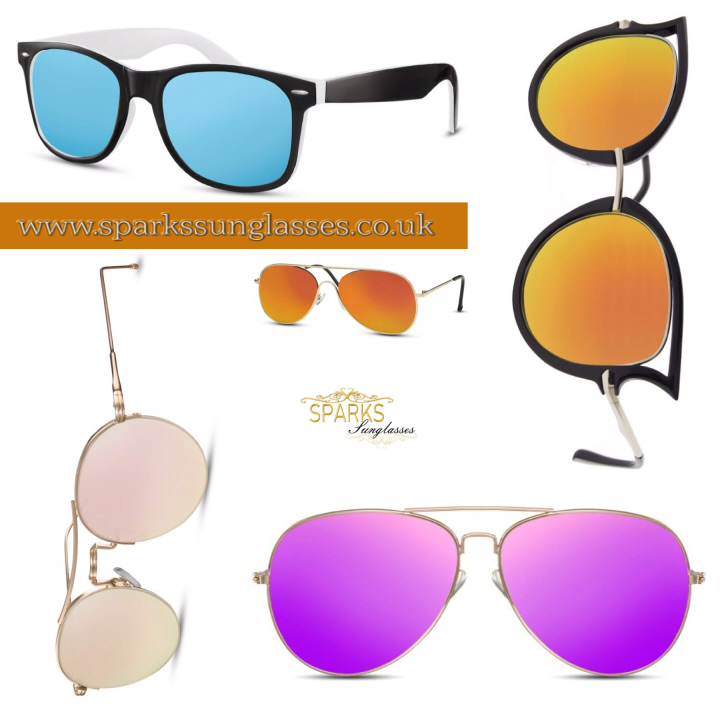 Winter, Spring, Summer, or Fall
All you got to do is call and I'll be there, yes I will. 
Winter, Summer, Spring or Fall, through it all our love for sunglasses remains.
Did you sing along to that James Taylor song? You've Got A Friend Indeed!
Anyway, seasons change, people grow, the world turns but our love for sunglasses truly does remain the same and we are super glad.
We know the majority of the world is still in quarantine and on lockdown, but here are a few more things that we all have in common. We're all looking forward to being free, we are looking forward to Summer and we are preparing what we're going to wear when we get out of the house, and we're not just going to the supermarket.
Now the Sparks Sunglasses, Spring/ Summer 2020 Collection has been available since April 13th and we're so pleased that the Sparks Family is growing and lovng their shades. The Spring/ Summer 2020 Collection is dressing the faces of our Sparks Family members, protecting their eyes and making them smile. That is our ultimate goal, so thumbs up to us for being successful! We're waiting for a few more Sparks Selfies from our family members in their sunglasses, but for now check out the collage below.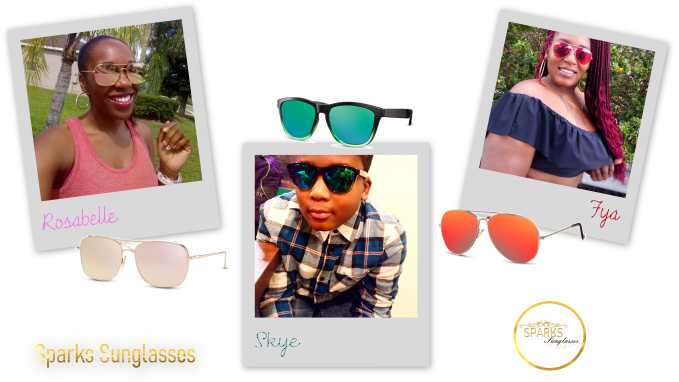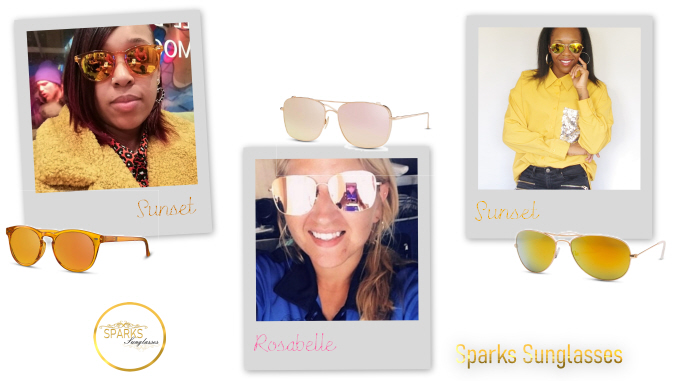 With all that's going on in the world right now, we previously shared that we wanted to make sure that our Spring/ Summer 2020 Collection was bright, bold, colourful and looked like a rainbow exploded. We are so glad we moved forward with that idea because the collection has been well received by the Sparks Family Members. 
We knew that colour had the ability to motivate, and to brighten your day, but could also give your spirit an immediate uplift; so that effect was our motivation. We work hard to make sure that our sunglasses are not only Trendy - Stylish - Fashionable but they make you smile all whilst making sure you are loving and protecting your eyes. That is our priority!
The Fya Selection is like a fya engine red. Get it, fire engine/ fya. Red brings you to action, even though a traffic light red tells you to stop. Red is the colour of love and vitality and we love the Aviator style so it was the perfect mix.
The Sunset Selection is an orangey, mustard yellow. I don't know about you but, we have seen an awful lot of Instagram pages with all yellow content. It's amazing! Yellow is bright, it evokes feel good emotions and is a good colour to match with other colours. If you're a Fashionista and like to experiment, you can wear yellow with blue/ navy blue and you would look brilliant. Just like the sun on a lovely Spring day, yellow also gives you the get up and go energy and we love it.
The Rosabelle Selection is a cool and delicate shade of rose pink and it immediately brings about positive feelings, elegance and a definite smile. Pink has a way of improving anyones mood, men and women alike. Don't tell me you haven't seen men in salmon shirts and suits. Pink is fabulous.
We also included purple in the Candy Selection and green and blue in the Skye Selection and they are doing great. We can't wait to get those other Sparks Selfies.
Before we go, we just want to say "Thank You Very Much!" To everyone that purchased a pair of Sparks Sunglasses this season. Your support means the world to us and the fact that you're looking after your eyes is an even bigger deal.
P.S. The Spark Sunglasses Collection is LIMITED EDITION so each frame is only available whilst stock lasts.
Sparks Sunglasses
Trendy - Stylish - Fashion
www.sparkssunglasses.co.uk
"Top quality sunglasses for any kind of weather"
Follow us on Instagram @SparksSunglasses
#SparksSunglasses #Sunglasses #Rainbow #Instagram #SpringSummer2020 #SpringFashion #JamesTaylor #Selfie #ColourScheme #FashionBlog #Fashionista #LockdownFashion